Explore Creative and Beautiful Nail Art Designs for 2021

Trending Nail Art Designs
February 19, 2021
Explore creative and beautiful nail art & nail designs to inspire your next manicure. Try these fashionable nail ideas and share them with us. Get fancy fingers with these trendy nail designs.
Love Heart Nail Art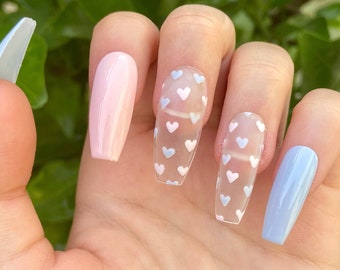 Heart is a symbol of affection and romantic love for its cute and pleasing shape. Every girl loves these small details, using them for outfits, accessories and even for their nails.
Pink and red is a classic color combination, and opting for a pale pink base makes the red hearts pop.
Gothic Almond Nails With Swirls
The black almond nails give a polished regal vibe, while the swirled white nails give a special accent that remains elegant. You can sport this nail style with a gray or black blazer set along with a dress, or an elegant top with slacks.
Dark and classy, this look is easy to match with clothes and other accessories.
Nature Inspired Nail Art Design
There's not much that's more picture-perfect than Mother Nature's most beautiful trees and flowers. Soft green leaves add to the look and create balance, like in a bunch of flowers.
Red Nails with Glued On Crystals

This red nail design gives you an eye-catching makeover with shining crystals. First, apply a coat of solid candy apple red to your nails. Make sure the color is saturated and shining.  With your ring fingernail, apply a twinkly silver glitter. Finish by gluing on a variety of beautiful crystals.
Cubism Nail Art Design
Cubism was a revolutionary style of art, which used squares and geometric shapes to show all angles of the subject at once. While it's challenging to fit a full masterpiece on your nails, take inspiration from Cubism by using lines, circles, and dots to create your own art sensation.
Like many nail art designs, if you're not confident in painting, choose nail decals or stickers for a more effortless outcome, with just as much punch.
Gold and Natural Nail Art
The nail art takes its inspiration from the runway, but it looks great at almost any event. You can achieve the hyper-metallic finish with a metallic nail powder or apply press-on nails with the pre-painted gold color.
This kind of nail art can be surprisingly versatile and bespoke. If you have a steady hand or have a skilled manicurist, then you can paint gold designs on a neutral base.